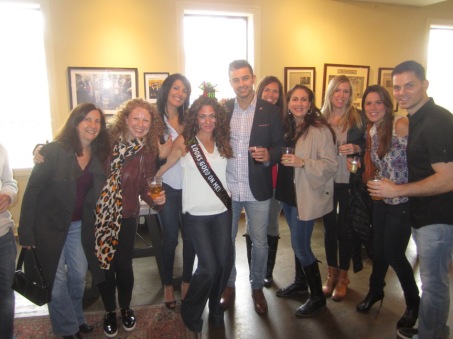 04 Apr

Notes From the Tasting Room, Vol. 184

Doing Their Brew Diligence

As the birthday girl, Christine Ranford of New Rochelle had her pick of celebratory venue. She selected Captain Lawrence to gather a couple dozen of her closest pals, and is marking the memorable day—after all, it's her 40th–with a cold cup of Clearwater Kolsch.

"I wanted all my girlfriends to come," says Christine. "But if it was a brewery, I knew their husbands would come too."

Actually, it's breweries. After Captain Lawrence, Christine's party bus makes its way to Newburgh brewery, up north and across the Hudson.

Her group is part of a tour with New York Adventure Club, which offers guided tours of local landmarks and places of interest. The organizer is Corey Schneider of Manhattan, while the tour guide, pointing out tidbits of interest about the breweries, is Giancarlo Annese of Brooklyn. Giancarlo is well suited to offer up brewery color; he and his wife Sarah are co-authors of the book Beer Lover's New York: The Empire State's Best Breweries, Brewpubs & Beer Bars.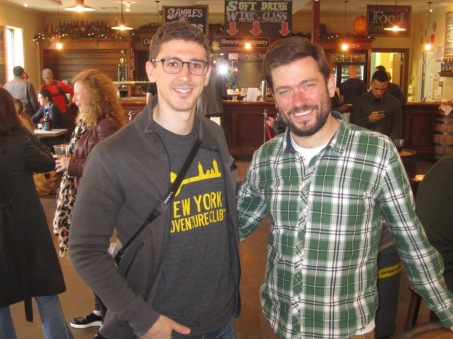 Giancarlo is in a bit of a sour mood. He calls the Midnight Monkey, a sour ale with buckwheat, blackberries and brett yeast, "fun", and digs the Fruity Bros Before Gose, a tart wheat beer, as well. "I like the style," he says.
Over in the indoor beer garden, a band is setting up, as are Ann Hellegeres and one-named Sia of Larchmont, along with pal Meagan Blanco of Northport are too. "Megan was visiting so we wanted to do something different," says Ann. "That's why we came here."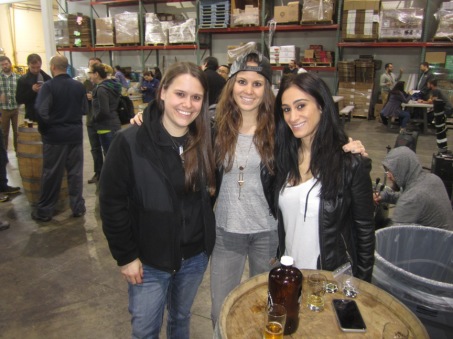 The choice was a winner for Megan after making the schlep from Long Island. "I'm kind of a beer connoisseur," she says, sipping the Hop Commander IPA, while her pals quaff the Liquid Gold Belgian-style ale. Ann, thinking of summer, is looking forward to the Sun Block, a hoppy wheat brew.
The Larchmont girls talk up the food and drink that Westchester has to offer, but Megan isn't yet sold on her visit to the 914. "It's pretty much Connecticut to me," she says with a smile.
Ouch.
It is the eve of baseball season, even if the weather doesn't feel—or look–like it. March Madness seems to have a bigger presence in the tasting room, both Syracuse and Villanova shirts and hats worn with abundant pride. For Gabriel Lopez of Weehawken and Stephanie Guitard of Brooklyn, it is, respectively, cycling and running season. The two saw something online about a bike trip from Manhattan to Captain Lawrence, up the North County rail trail, and decided to scope out the brewery first.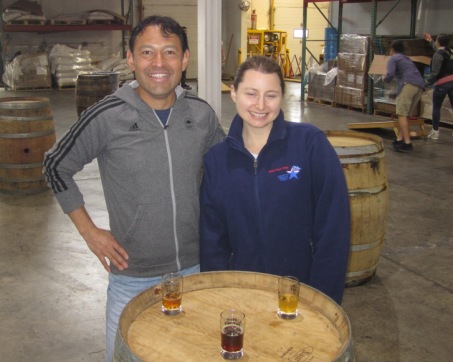 Call it brew diligence. "We wanted to check out the beer, then decide if we wanted to do the bike ride," says Gabriel.
So far, so good with the beer. He's got the Freshchester Pale Ale, while Stephanie sips the Bros Before Gose. "Mild and smooth, not that hoppy, not bitter," she says.
The pair has already earned the day's refreshments, having taken part in a mega-mile run in New Jersey before coming to the brewery. "The beer tastes good after," says Stephanie. "It tastes good before too."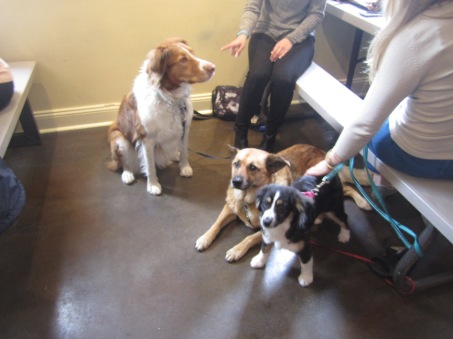 Back in the tasting room, tour leaders Corey and Giancarlo are brushing up on their facts and figures for the Newburgh Brewing portion of the tour. While most in the brewery aren't thinking baseball quite yet, these two guys are psyched for the new season. "I don't have high hopes," says Giancarlo of his beloved Yankees. "But a trip to the playoffs would be nice."
Corey, on the other hand, roots for the Mets—and is more optimistic. "Some fans were disappointed with the way last season ended," he says of the Amazins' World Series loss. "But it's such a young team, with so much talent."
Christine Ranford's birthday party, meanwhile, is brimming with optimism too. The afternoon is still young, and 40th birthdays don't happen every day. "We like day drinking," Christine says, with a happy hoist of her Kolsch.