01 Nov

Captain's Log – November 2016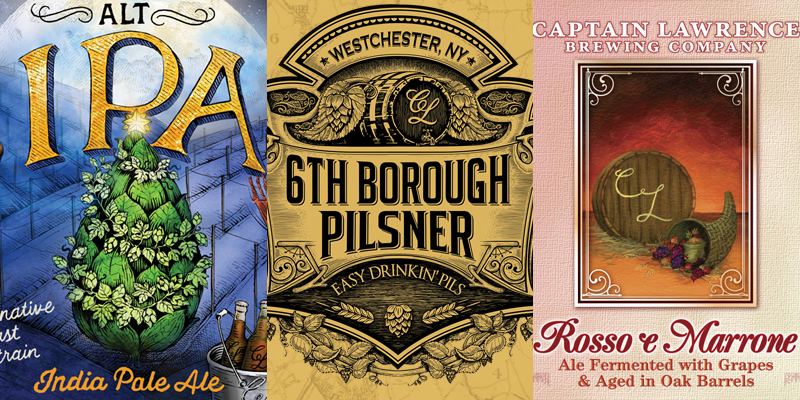 It's a beer time of year, and Captain Lawrence has a lot on tap. Recent releases have been flying off the shelves, so we're making more beer, a whole lot more beer in fact. Just released, we've got the newest addition to the Captain's Core line-up, 6th Borough Pilsner, a brand new Winter Seasonal Ale ALT IPA, and the return of one of our most celebrated Sour Beers Rosso e Marrone.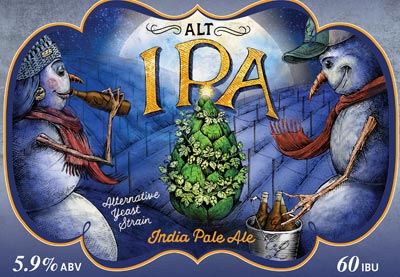 Alt IPA and Something in the Works
Alt IPA joins the line-up as our new seasonal Winter Ale. Brewed with Chinook, Cascade, Simcoe, and Citra hops, then dry hopped with Mosaic and Cascade, this bold and hoppy ale is perfect for winter enjoyment. Weighing in at 5.9% ABV, with a 60 on the IBU chart, the Alt IPA re-imagines the clean German style. "It has an alt-style base that's been Americanized," says Scott of the Alt IPA's big hoppy character.
ALT IPA is now available in bottles and on draft.
Sticking with that part of the world, Captain Lawrence also has a schwarzbier in the works. Translating to "black beer", it's a dark and roasty type of brew with an intriguingly bittersweet flavor profile. "We haven't done it in the past. It's a cool style of beer that we're definitely excited about," says Scott. "We'll play around with lager yeast and try some interesting things."
That one will be draft only, available toward the end of November.
While some of the frothy head may have settled on the pumpkin ale craze in the marketplace, the Captain Lawrence Autumn Blaze came back with a bang this season. Captain Lawrence founder Scott Vaccaro says rebranding the brewery's pumpkin beer helped spark demand. What was once simply "Pumpkin" Ale is now Autumn Blaze, a homage to the Great Jack-O'Lantern Blaze here in Westchester County, with some fired-up pumpkins in the packaging.
"It was definitely a plus," Scott says. "We're really proud of the new branding."
There's a limited supply of the Autumn Blaze left in the tasting room, and you may be able to find it on a retail shelf near you.
6th Borough Pilsner is the newest addition to the Captain's Core line-up, and the second widely distributed beer to be released in cans. Captain Lawrence's first distribution release in cans, Effortless Grapefruit Session IPA has been a big success. Two limited release can runs; I Was Blind All the Time American IPA and I Was Learning to See Imperial IPA, both sold out within hours.
6th Borough is a classic pilsner brewed with Czech lager yeast but with decidedly American notes. Captain Lawrence has erected a silo dedicated to the specialty malts from Holland Malt that give the 6th Borough its uniquely crisp, pilsner-y profile.
And If the limited release of special imperial IPA I Was Learning to See is any indication, people turn up for expertly produced canned beers. I Was Learning to See was the second in a series, after I Was Blind All the Time, and it sold out quickly. "Those were fun beers to make and we look forward to doing more like them," says Scott, noting the increased flexibility in his brewing operation.

Hudson Valley Harvest: Black Raspberry
On the sour ale front, the Hudson Valley Harvest Black Raspberry sour, soaking up flavor from raspberries harvested from Stone Barns in Pocantico in the barrels for over a year, is slated to be available in 375 ml bottles by the end of this year. Of course, scheduling those finicky sours can be tricky. "They tell you when they're ready," says Scott.
The Black Raspberry sour is a tart, acidic and refreshing beer and goes exceptionally well with food. "It's our nod to a Belgian framboise," says Scott. If you can't wait until the end of the year for a stellar sour, the beloved Rosso e Marrone, aged with Merlot and Zinfandel grapes, arrives in 375 ml bottles in November.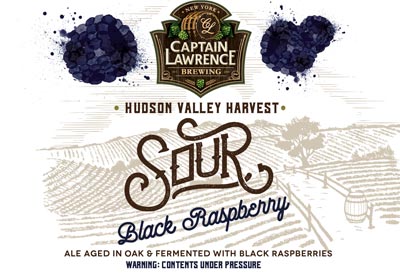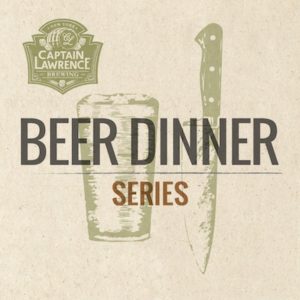 Captain Lawrence is introducing a beer dinner series that pairs up the best local brews and a menu comprised largely of Hudson Valley Ingredients, as imagined by Captain Lawrence's new Executive Chef Joseph Smith. Recently hired to man the helm of Captain Lawrence new kitchen, Chef Smith has immediately set out to putting the recently expanded facilities to good use. The dinners, typically featuring 4-5 food/beer courses, will be limited to around 50 people at the brewery. The monthly series, which will also feature beers from other local breweries, kicks off on December 8 and continues January 19, February 14, March 16, April 13, May 25 and throughout 2017.
``Joe is a talented chef and we plan to make the most of his creativity in the kitchen,``
- Scott Vaccaro.
New to 444 Saw Mill River Road in Elmsford is a batch of tap handles, sporting the new logos and a more streamlined and ultimately user friendly design that ensures that Captain Lawrence will be pouring with maximum efficiency. It's the brewery's first tap upgrade since it launched!
A new online portal for Captain Lawrence logos, posters and other promotional materials promises to make life a little easier for the brewery's distribution partners, saving them visits to the brewery.
Finally, the season for outdoor drinking may be coming to a close, but Captain Lawrence is already thinking about the springtime and beyond. Permits have been filed to build a deck alongside the beer garden, greatly expanding, and enhancing, the site's outdoor drinking space.
"We have big plans for our outdoor space," says Scott, "and we can't wait to see them come together."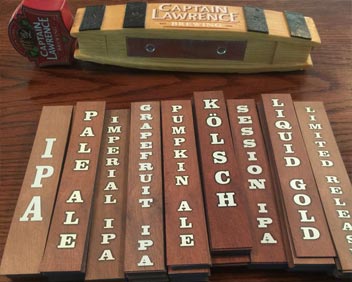 After a brief hiatus, NAMAST'AY For The Beer is coming back to the Brewery. We've got a great local instructor who's going to be mixing it up with great music, a great tempo, and of course, you'll want to namast'ay for the beer. Learn more…
You loved Mother Shucker, you loved Cooktoberfest. So we're bringing you more. The Cookery and Captain Lawrence team up to Wreck the Halls this December! We'll be sharing more info soon. In the meantime, follow The Cookery and Captain Lawrence on Facebook and stay tuned.