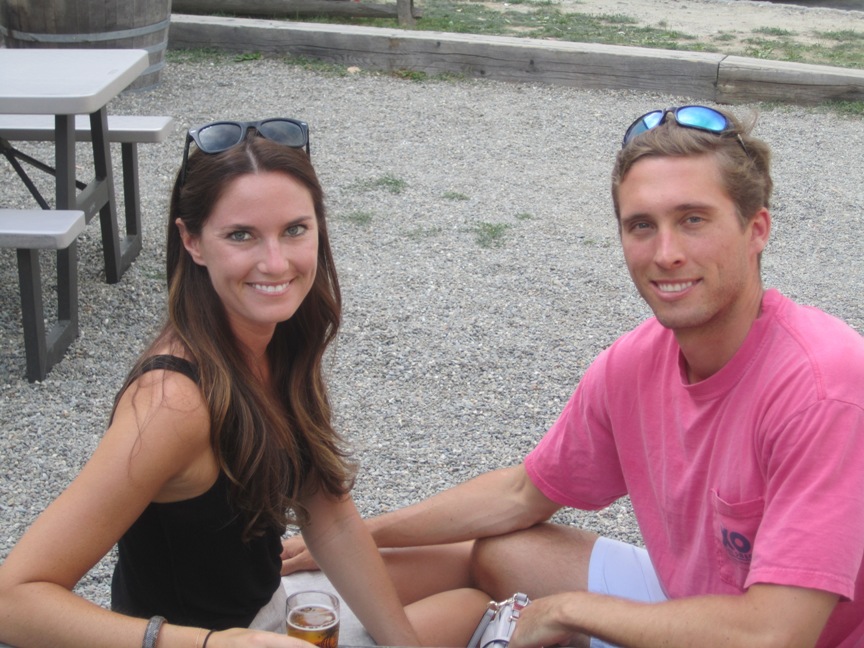 25 Jul

Notes From the Tasting Room, Vol. 190

Keeping Cool(ish) Under the Dome

As the TV weather men and women have informed us, we're stuck in a heat dome, which is like a heat wave that decides to drop anchor and stick around for a bit longer. Yet the Captain Lawrence patio is mostly full on this blazing Sunday afternoon. Peekskill band Sinnis deserves a medal, or at least a really cold brew, for soldiering on in their head-to toe-black outfits, Johnny Cash-style, eight of them jammed onto the small stage.

"I'm just about in the shade," singer Marc Sinnis growls into the mic. "Five more minutes."

Rachel Lothspeich and Ian Fenwick have escaped the Satan's sauna that is Manhattan, visiting Stone Barns in Pocantico Hills, checking out the animals and breaking for lunch at the Blue Hill café—outside. "We were starting to sweat," says Rachel. "We really wanted a nice cold beer."

When one of the farmers mentioned that the pigs are fed spent grains from Captain Lawrence, the pair knew where to go.

Rachel is enjoying the Effortless Grapefruit IPA, while Ian has the Palate Shifter. The aptly named pilsner Jillzner, Rachel adds, was "really nice and refreshing."

"I had no idea there was all of this," Ian says, gesturing around the patio.

"We thought it would be just the tasting room," Rachel notes.

How do they cope with the heat? "We have air conditioning at home," says Ian. "some friends of ours don't."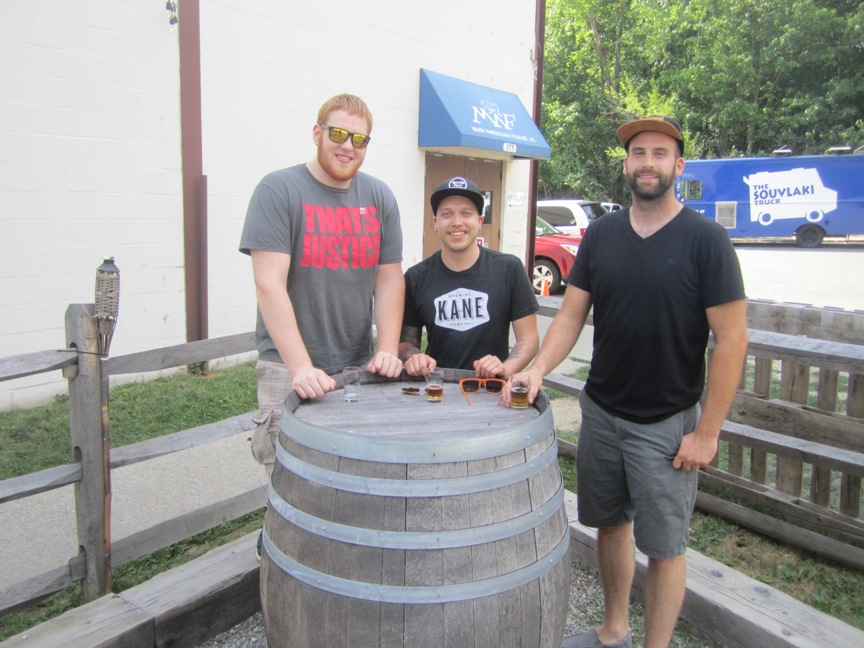 Elsewhere on the patio, a New Jersey trio–Sean O'Rourke of Oak Ridge, Joe Salvagno of Hopatcong and Shaun Audet of Mt. Arlington—have found a bit of shade in the corner. The guys' ideal notion of a summer weekend is venturing out to the Garden State's many breweries. Today, they crossed the Hudson—hitting Bridgeview Tavern in Sleepy Holly for lunch, where Shaun enjoyed Hillstead Farm's Conduct of Life pale ale, then on to Captain Lawrence.
The fruity small-batch Tropigose, notes Joe, was "awesome." The Effortless Grapefruit too is going down well for the guys, who are holding up just find in the heat. Joe takes a philosophical view of the weather. "It's gonna be freezing before too long," he says. "We may as well make the most of the hot weather."
They like that, unlike with most Jersey breweries, one can order food at Captain Lawrence. They like the bocce, the band, the indoor space for when the heat is too much. "We've been to so many places that have small tasting rooms," says Sean. "At this place, you're not crammed up against each other."
The tasting room is, not surprisingly, jammed, people opting for A.C. instead of near triple figures scorch. Beertender Rob Catalano is serving up armfuls of his new Great Rhubarb Sturgeon Berliner Weiss, brewed with 20 pounds of rhubarb from J&A Farms in Goshen. Rob credits Justin Sturges for a big assist on the fruity brew, whose name is a nod to the Primus song "Ol' Diamondback Sturgeon." "It's light, it's tart, it's easy–it's the complete opposite of the Knifey Moloko," Rob says, referring to his milk stout.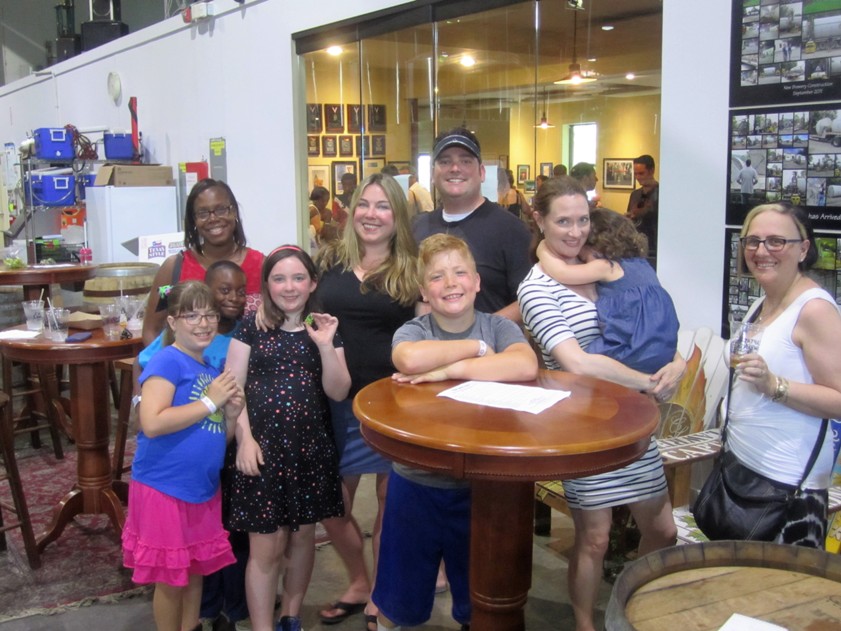 Erica and Sean Carrig of Cortlandt Manor are part of a large group here to see Sinnis play, ducking inside during a set break. The kids are behaving marvelously, allowing mom and dad a little R&R. Erica sips the Liquid Gold, and Sean the new pilot system lager called Murica.
How are they coping with the heat?"
"We went to the pool yesterday," says Sean.
"Cold beer!" adds Erica.
Some time in the tasting room A.C. does wonders for the temperament. "The kids are having fun," says Sean. "that makes it easier."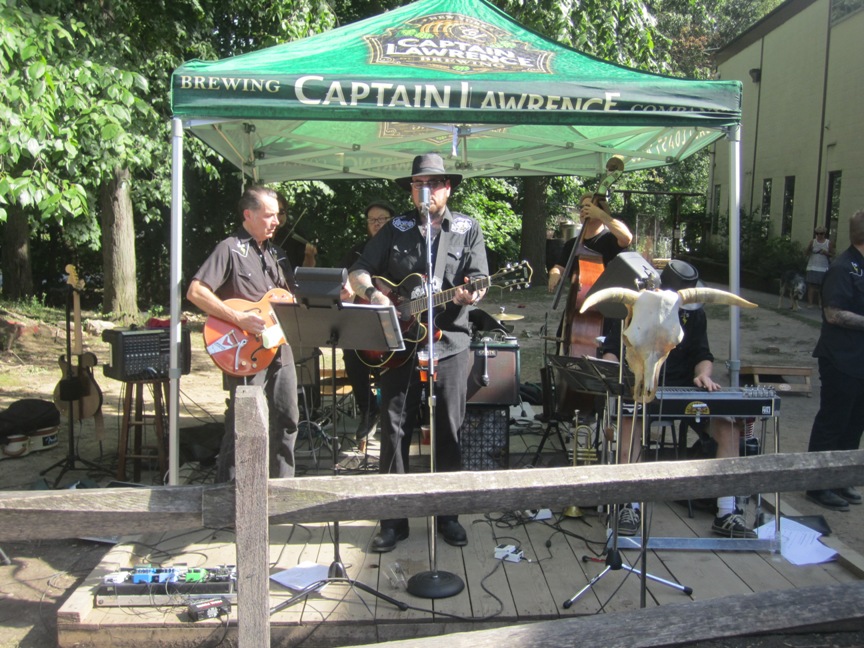 Outside, the band continues to crank out its unique "cemetery and western" sound. Mark Sinnis, in black from his biker boots on up to his leather hat (the chapeau is, indeed, a heat dome), could use some liquid refreshment. "Anybody mind getting me a beer?" he asks the crowd.
"What kind?" someone asks.
"Anything with alcohol in it," the singer shoots back.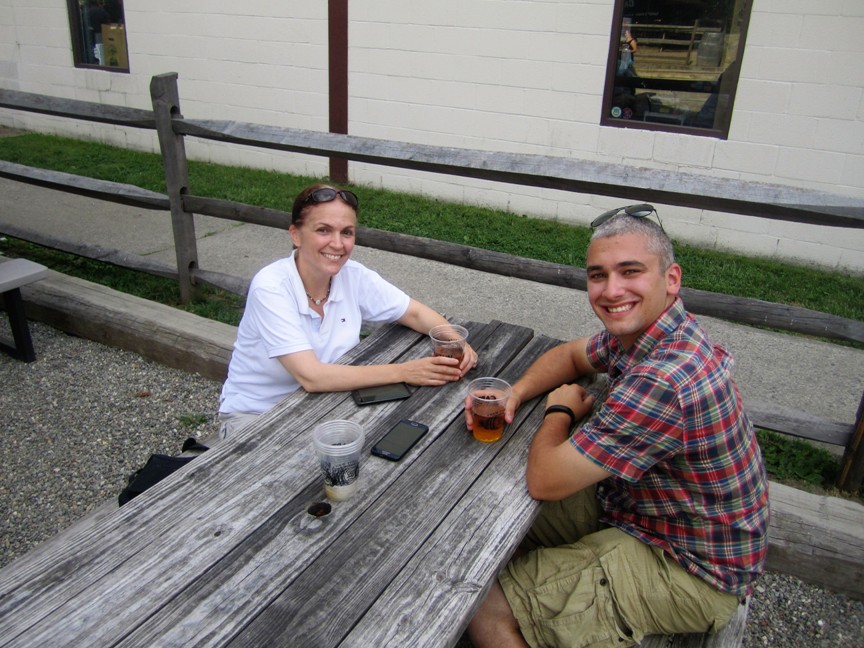 A nurse, Lisa Guarino is celebrating wrapping up several days of being on call with a beer with her son John Sordellini and with Brooke St. Pierre, all of Bedford Hills. "This is me, celebrating officially being off work," she says, raising her glass of lager.
At long last the sun begins its descent behind the trees. The sultry weather gets some people down, but not this crew. "Nice shade, and a nice live band," says John.
"A little breeze," Lisa adds, "and a good beer."
–Michael Malone ([email protected])