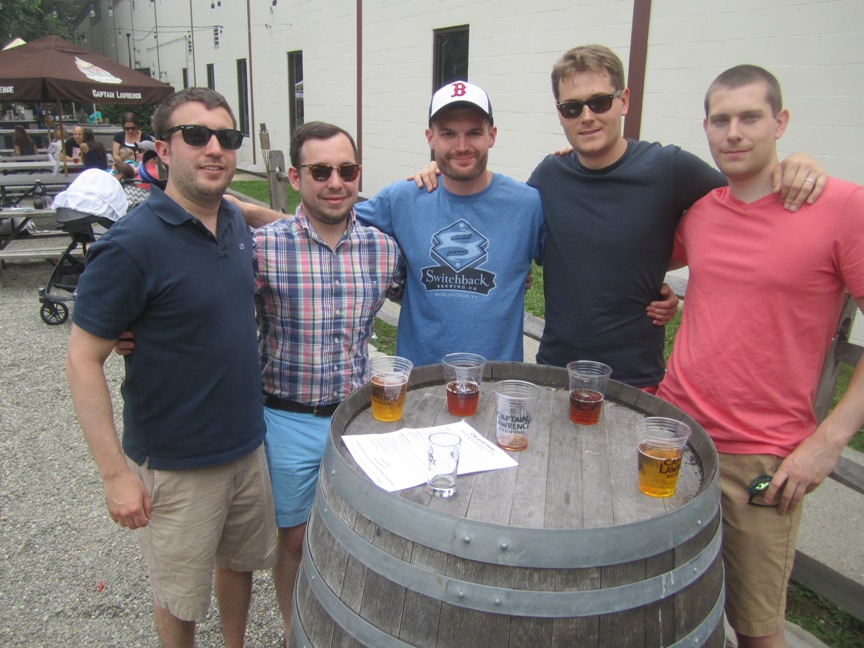 05 Jul

Notes From the Tasting Room, Vol. 189

Go Fourth and Prosper!

It was a long weekend, a holiday weekend, and for many, a perfect opportunity to throw back a few craft beers with friends, and reflect on independence and the other things that make America great. It was Alex Anderson of Tarrytown's 30th birthday—another solid reason to celebrate–so he called the shots and brought a bunch of his old fraternity brothers together at Captain Lawrence.

"I had a party in the city yesterday," he says, "and this is always a good day-trip place."

Four from their party were Pi Kappa Alpha mates at the University of Vermont, while Alex's brother Turner, of Baltimore, too is along for the ride. "It's our first time here," says David Wasserman of Boston. "But we respect Alex's opinion."

So far so good for the UVM gang. It's a steamy summer day, with bocce balls and cornhole bags flying, and the rock band Unborn Mind rocking out on the patio. "Beautiful day to be outside," says James Mihos of Boston.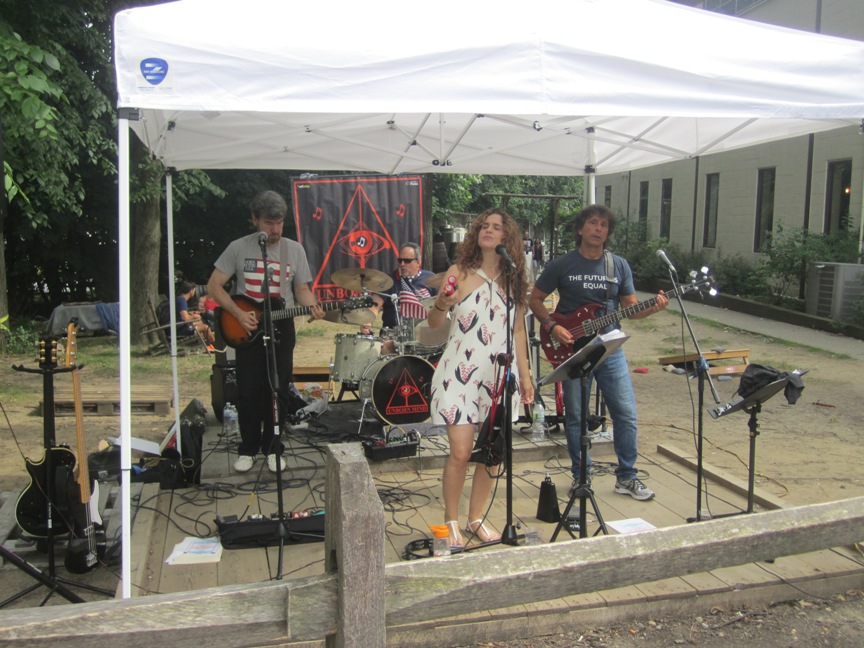 The Vermont guys are enjoying a range of beers, from Alex's Liquid Gold to David's St. Vincent, a Belgian-style dubbel ale brewed in honor of CL founder Scott Vaccaro's dad, Vincent. "On a day like this I'd only have one," says David of the big, bold brew. "Come fall, I'll be back for a few more."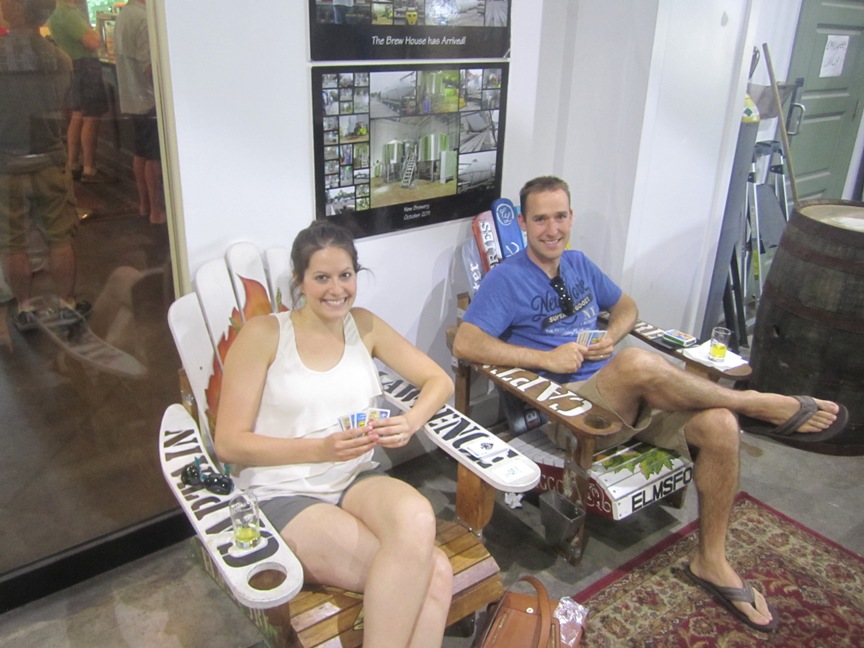 Some would rather be amidst the cool indoor temps. Lauren and Landon Carvalho are playing a card game they call Applesauce in the fenced-in pen adjacent to the brewing space; while they are residents of northern California, they're currently based in Newburgh, helping the Jehovah's Witnesses build their massive world headquarters in nearby Warwick.
Landon had a speaking engagement in the Bronx, and the pair was looking for a brewery on the way back to Newburgh. "I needed a date," quips Lauren.
He's got the Hop Commander IPA, while she quaffs the Sambucan Belgo Ale, a small-batch amber brew. "Delicious," says Lauren with a smile.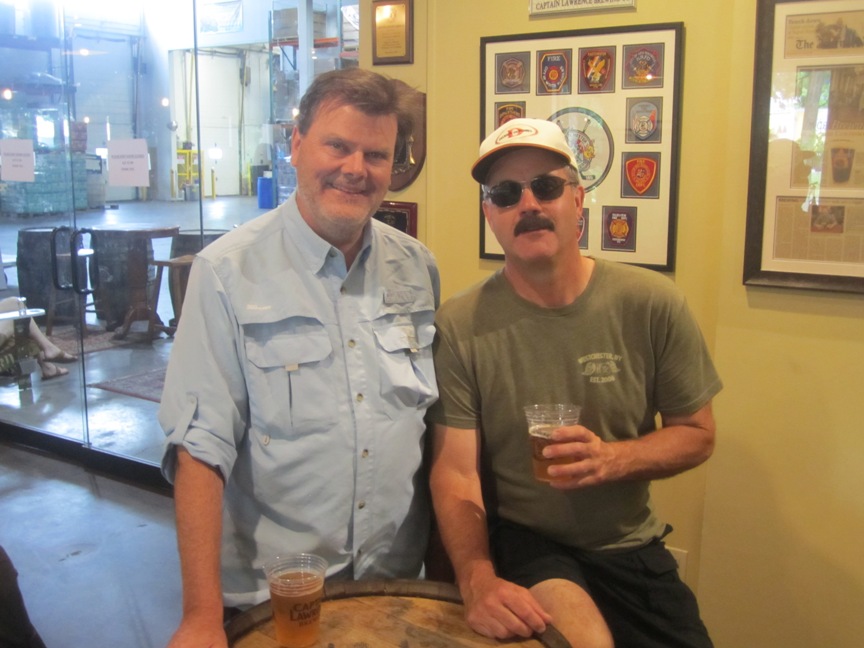 Elsewhere in the tasting room, Tom Reilly and Stu Schuessler of Pleasantville are relaxing over a couple Palate Shifter imperial IPAs, a 9% ABV hop monster, and celebrating the 240th anniversary of America's independence. "USA, baby," says Stu. "Support the troops."
Tom says there's a special vibe in the Captain Lawrence tasting room. "The people here are awesome," he says, noting the number of friends he's made among tap room denizens, and the brewery's friendly staff. "Everyone who works here is like family."
It is pointed out that, as Tom's son Jack helps manage the tasting room, some who work here are, in fact family. "Even the non-family feels like family," clarifies Tom.
There's a steady stream of new faces in the tasting room, many people filling growlers—the flagship Freshchester Pale Ale, the refreshing Clearwater Kolsch, the pilot system black IPA Other Berry—before heading out to barbecues, parties and fireworks displays. For plenty of others, a day at the brewery is the day's entertainment. Dan Comstock and Alex Hanover both made the short hop over the reservoir from Tarrytown, it being Dan's idea. "He's smarter than me," acknowledges Alex. "It's a good time to enjoy recreational times with friends."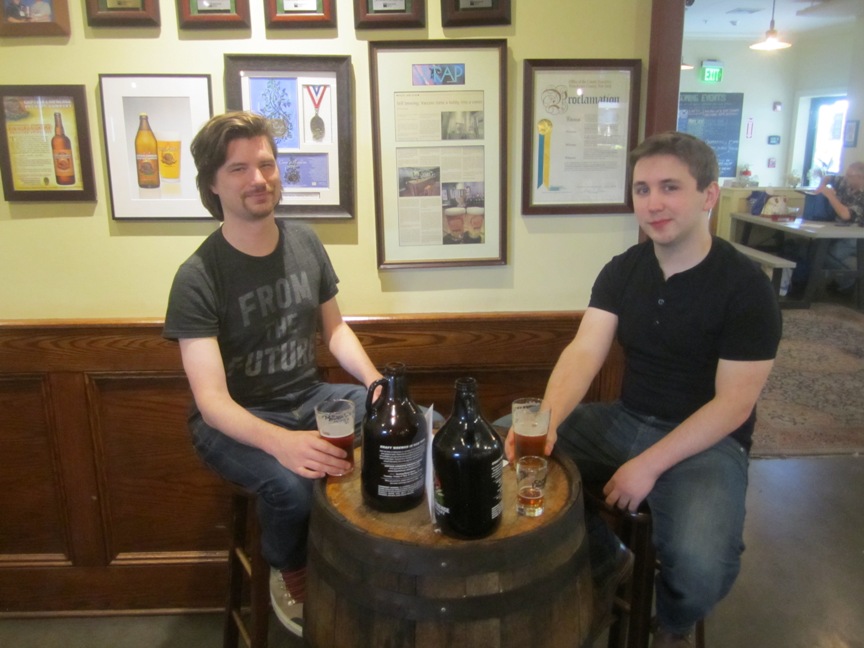 Dan's got the Sambucan Belgo, while Alex sips the palate shifter—both popular choices on the day. A pair of empty growlers situated on their barrel won't stay empty for long. "I'm not really sure what we're doing," Dan says. "But having a full growler will definitely be a good thing."
–Michael Malone ([email protected])