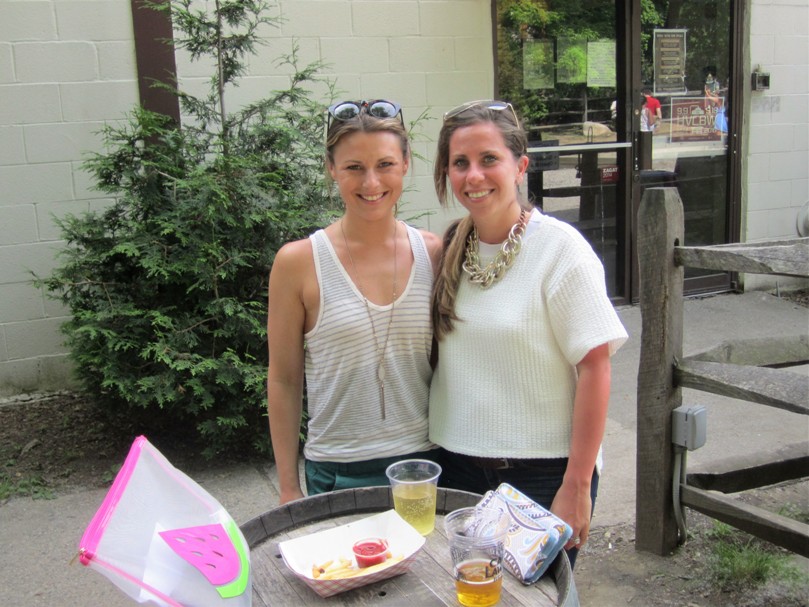 31 May

Notes From the Tasting Room, Vol. 187

Staycation? How About IPA-cation?

As the jams along the highways attest, plenty of folks took the long weekend to get away to the beach. But many others sought out R&R closer to home, favoring pastimes such as sipping craft beers at the local brewery. No traffic, no crowds, plenty of parking, good beer, and tasty grub from the Fork in the Road food truck out of Brewster.

"I feel like I travel all the time; it's kind of nice just relaxing," says Ashley Stambler of White Plains, sipping a beverage with Marie Roberti of Wantagh.

Their "boys", as Ashley puts it, were out playing golf, so the girls hit Captain Lawrence for some al fresco imbibing. They're set up on a barrel on the patio, overlooking the cornhole action. Marie has the Liquid Gold. Ashley, whose options are limited by celiac disease, has a cider.

"I have a lot of vacation coming up," says Marie. "It's nice just to relax."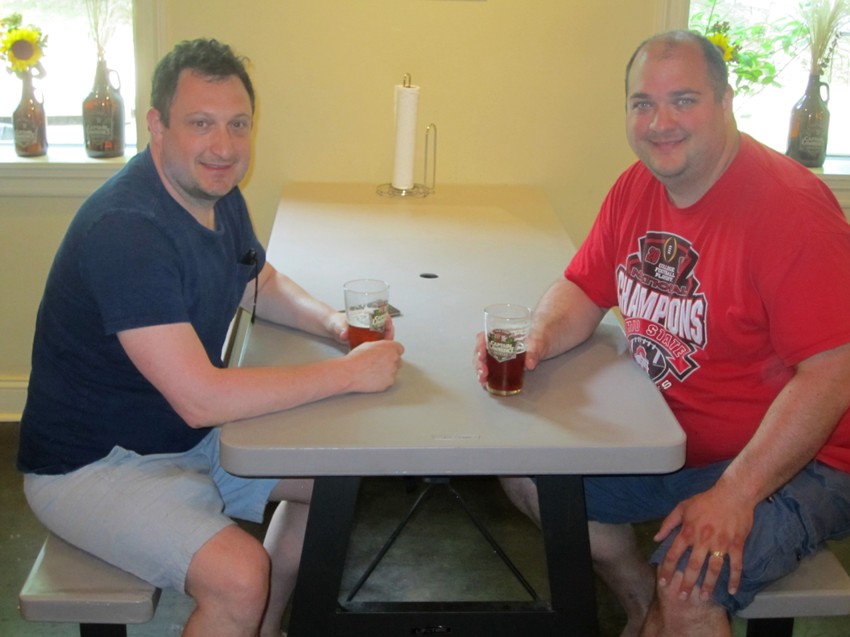 Ashley and Marie are one of several duos at the brewery, where one person lives locally, the other is in town for a visit, and they agreed on Captain Lawrence to catch up. Scott Banchek drove from Cleveland to hang out with brother Brett, of Purchase. "We both love beer," says Brett. "I came here with my father-in-law and had a great experience—great, fresh beer on draft…the best in Westchester, in my opinion."
Scott was elated to hear a brewery visit sat at the end of a long drive. "I was like, uh…OK," he says. "I'm a huge beer fan, and it's a great day for drinking beer."
Seated in the tasting room to beat the heat, the Brothers Banchek are enjoying the East Coast Animal, a big and hoppy small-batch barleywine.
Elsewhere in the tasting room, Jamila Jones of Queens and Compton Bell of Elmsford are enjoying their first trip to Captain Lawrence. "A couple buddies told me, hey—you live really close to Captain Lawrence," says Compton, who figures he could walk from his home. "So we decided to check it out."
The two are sipping the Effortless Grapefruit–"You can really taste the grapefruit," notes Jamila—after samples of East Coast Animal. "We are chasing the Animal," says Compton, which is better than having the Animal chase you.
Keeping that Westchester-Long Island combination going, Rich Garing of Valhalla and Jon North of Port Washington may just be the happiest guys in the brewery. Rich moved in to the area late last year, and he and wife Amanda are regulars at the Captain—not to mention ringers on Trivia Night. "Our names are on the keg," says Rich proudly.
The two came to buy a growler and wisely figured they'd better sample a range of brews to make sure they made the right decision. Ultimately, the Effortless Grapefruit IPA won out.
"We had Jon for Memorial Day, so I figured I'd steal him for 15 minutes…a half hour," says Rich.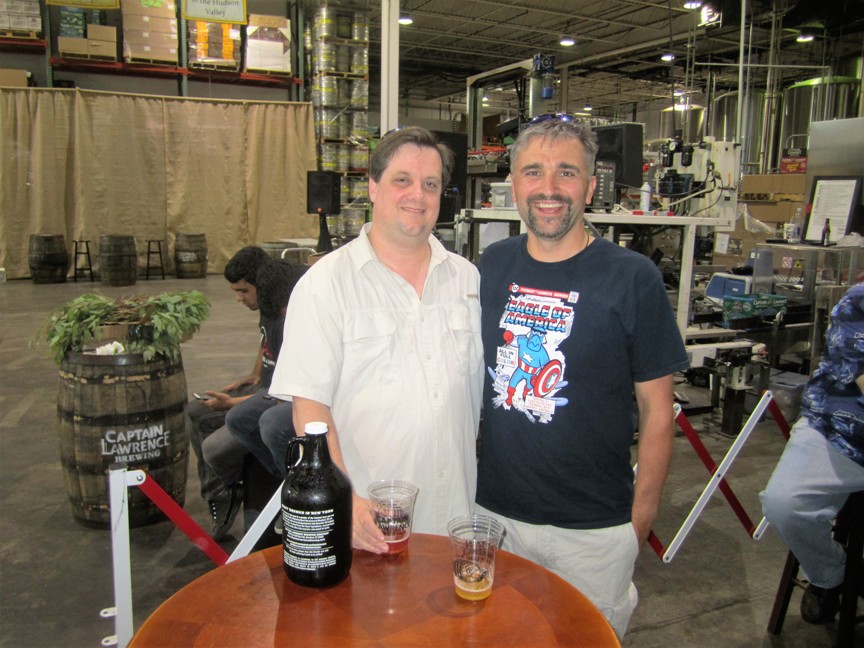 Rich has the Sambucan Belgo Ale, an amber brew weighing in at a sessionable 5% ABV, while Jon samples the pilot batch Nanu Nanu, an IPA fermented with Irish yeast and dry hopped with mosaic and centennial.
There's no place Jon would rather be. "I got to leave the kids behind," he says. "It's an excuse to come and see what he and Amanda are always talking about."
Sure, there are all sorts of beautiful beaches and other picturesque getaways a shortish ride from Westchester. But for the people at Captain Lawrence on this summery Sunday, the staycation suits them just fine. "It's a place to come and relax and enjoy whatever is going on here," says Rich happily. "And just enjoy the company you're with."
–Mike Malone ([email protected])