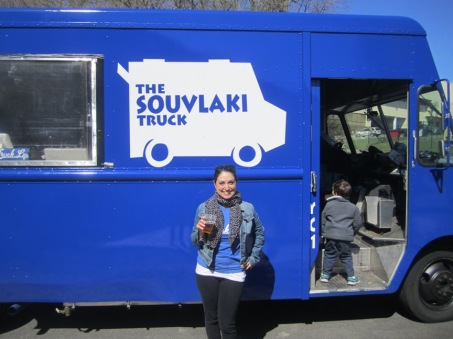 11 Apr

Notes From the Tasting Room, Vol. 185

Get Him to the Greek

There are perhaps a dozen reasons to visit Captain Lawrence on this spring-but-not-quite-spring Sunday, including the Clearwater Kolsch, the Effortless IPA and the Hop Commander. But for Larry Zittman of Yonkers, it's the big blue souvlaki truck, appropriately painted with "Souvlaki Truck" on the side, parked alongside the patio and filling the air with the enticing smell of grilled pork, lamb and chicken.

"I am here for the souvlaki," Larry says.

It is just barely warm enough to sit outside, so Larry and his Yonkers friends. "As long as we sit in the sun, we're OK," says Bobby N.

She sips the Chicosa, a funky, small-batch champagne ale brewed with French hops and a bit of orange juice. "A good daytime beer," she says.

It is indeed. Larry swears by the Liquid Gold, while Zachary Perrault has the Mass Pike, a bold, malty brown ale made for our pals in Massachusetts. "Something different," he says.

George Kringas, who owns the Souvlaki Truck with his wife Danielle, says souvlaki and beer go together like Bogey and Bacall. "Salt and barbecue and summertime," he explains.

Elsewhere on the patio, there's a blind date afoot, with Dani Cruz of Sleepy Hollow and Danny Tumsuden of Bergen County just getting to know each other before some annoying guy with a notepad, camera and a bunch of questions interrupts them. Captain Lawrence was Dani's idea. "I figured, why not a brewery? she says.

That was cool with Danny. "I'd never been to a brewery," he says. "It sounded like a good idea."

Danny has opted for the Freshchester Pale Ale while Dani has the popular Chicosa. "It's a Sunday beer," she says. "Who doesn't like beer on a Sunday?"

OK, Dani and Danny, back to getting to know each other, and best of luck.

A few other parties sit outside, and a kid tosses the bocce balls about. But most are indoors. Mark Sinnis and his 825 band tear it up in the indoor beer garden. A group of four is huddled around an iPad, watching the Masters.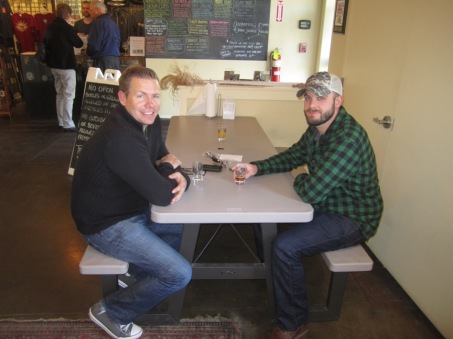 Nick DeYoung of Eastchester and Brian Gallagher of Portchester unwind with a few brews, and are discussing the spread of craft breweries around New York State. "I saw Freshchester in Utica," says Nick.
He's got a cup of that same Freshchester while Brian enjoys the Effortless Grapefruit, a session IPA. He had Ballast Point's Grapefruit Sculpin on the brain, and was pleased to find a citrusy india pale ale at the Captain. "I'm bringing at least a six home," he said of the newly canned brew.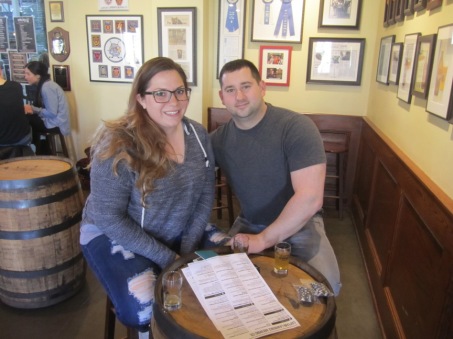 Elsewhere in the tasting room, Rob Consigliere of Harrison and Alison Platt of the Bronx are enjoying a couple Fruity Bros Before Gose, a lactic fermented wheat beer, after a little spring training. With Alison's work softball season starting this week, they were at Sportime NY, hitting the batting cages.
"The swing's looking pretty good," says Rob.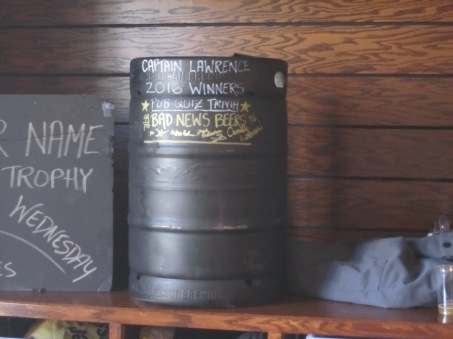 Yes, it's spring, even if Mother Nature is not playing along. Presumably, in a matter of days, the Captain Lawrence patio will be rocking once again. For now, it's a handful of hardy parties aligning themselves with the sinking sun.
"So much for April!" says Larry Zittman.
"Winter was spring and spring is winter," adds Zachary Perrault. "They are flipped."
At least there is cold beer, and hot souvlaki, to hold us over until the warm weather.