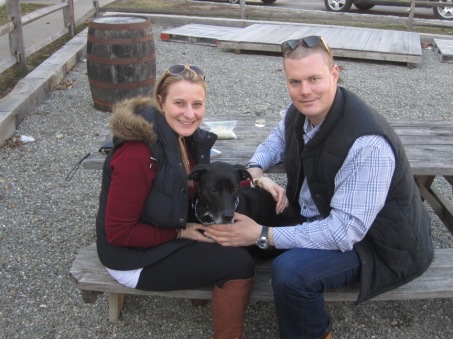 29 Feb

Notes From the Tasting Room, Vol. 180

Bird Watching, Bird Sipping, and Other Fowl Play

For many at Captain Lawrence, the brewery is a home away from home, the place to go when whiling away a lazy weekend day. Yet others are seeing it for the first time, such as Katie Grimes of Yonkers. It's Katie's 23rd birthday, and she's got a dozen friends in tow to celebrate, all on their inaugural visit to the brewery.

"I wanted to choose something where we'd never been before," Katie says.

Katie has selected the malty Brown Bird brown ale for her maiden voyage. "I looked at the list, and this popped up," she explains.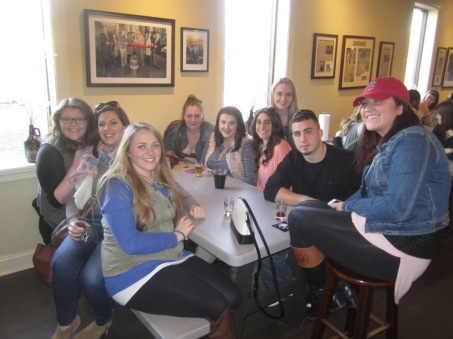 Her friends appear to appreciate Katie's venue selection. Christine Murray of Riverdale tried a Captain Lawrence beer at a Bronx pub recently—the bartender put some cinnamon on the rim, she says—and it was love at first sip. "I said, sign me up for this brewery," she says.
While Katie and Company are hanging inside, it's an outdoors kind of day, the temperature tickling 60. There's bocce being played, and people simply sitting around in the sun for the first time in months, enjoying a craft brew. Jason Carr of Yonkers and Ashley Luke of Scarsdale had been at the Captain the day before, and were en route to Poughkeepsie to take in the Walkway Over the Hudson pedestrian bridge. Alas, a motorcycle accident on the Taconic closed the highway.
"We talked about getting pizza, finding a hot dog truck," says Jason of their Plan B.
'He said, why not go back to Captain Lawrence?" adds Ashley.
Sold. Foremost, Bentley, an exceedingly handsome black lab/pit bull mix, could come along and enjoy the weather. "Not a cloud in the sky," says Ashley.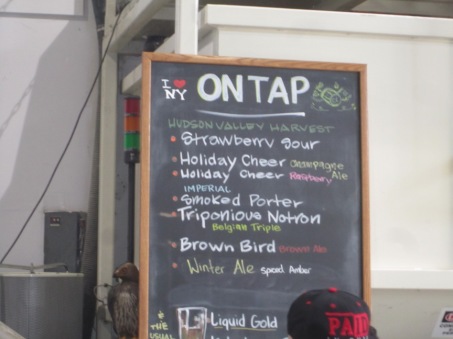 The couple did some extensive sampling the day before, and arrived on this day with a clear idea what to have. Ashley has the Holiday Cheer champagne ale, while Jason has the Hudson Valley Harvest Strawberry Sour. "I normally like porter," he says. "But it's more of a summer day, so I picked a summer beer."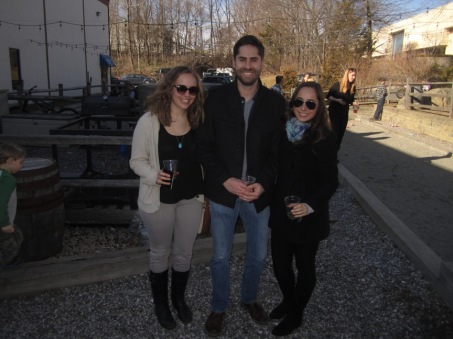 Elsewhere on the patio, Cara Rothenberg of Sleepy Hollow and Tom Sherry and Jen Verardo of Alpine, New Jersey are also enjoying the summer-ish day. Tom's got the Hop Commander IPA, Cara the Holiday Cheer raspberry ale, and Jen the Holiday Cheer champagne ale. "It's light, like a mix of cider and champagne or Prosecco," says Jen.
Tom and Jen have been at the Captain for Sour'd in September and the annual pig roast, and Cara says she wanted them to visit on a "normal" day. Yet the weather is hardly normal. "I thought we'd be huddled up inside," says Cara. "Now we're getting some Vitamin D."
Back inside, where the Vitamin D is in short supply, Mark Sinnis and his black-clad band are rocking out in the indoor beer garden. One table of denizens plays a heated game of Uno. Another features a couple toddlers romping about.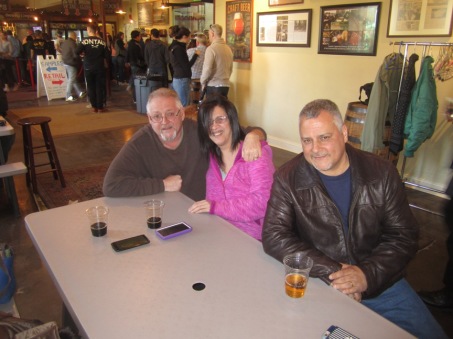 A year after Birdman took Best Picture, on this Oscars Sunday, Donald Maldonado of Hawthorne and John and Krystal Flynn of White Plains have indulged in their own unique forms of Bird watching. John and Krystal like to go to Verplanck to photograph eagles coming in off the Hudson. "On a good day, we'll have a beer here after," says John. "On a bad day, we'll still have a beer here after."
Donald, a lifelong Yankees fan, is thinking about spring training, and lamenting the injury to first baseman Greg Bird. "No one else can afford to be injured," he says.
The Flynns enjoy their beloved Smoked Porter, while Donald has the Hop Commander. "Liquid crack," he says, not to be confused with the Belgian-style ale Liquid Gold.
Meanwhile, back at the Grimes birthday party, the action is picking up. Christine is one of the few people not celebrating the weather, noting how hard it is to get the outfits correct amidst these mercurial times. "The weather changes so drastically," she says. "You end up looking like an idiot."
Birthday girl Katie, for her part, will take this gift from Mother Nature as she enjoys another Brown Bird. "Every time my birthday comes around," she says, "it's a blizzard."
Not today.