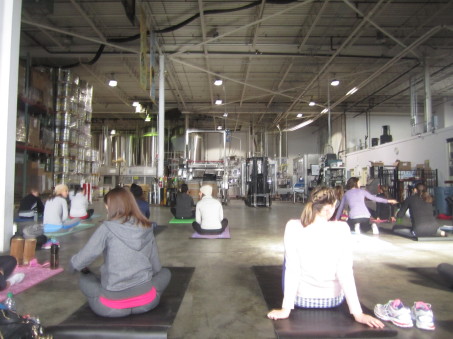 Downwardly Mobile, Or, My First Taste of Brewery Yoga
Captain Lawrence has been host to movie screenings, weddings, concerts and the occasional author reading. But perhaps its most peculiar event is the weekly yoga class. Called Namast'ay For the Beer, the Saturday morning class runs through vinyasa flow yoga, and ends with what the brewery is far better known for—a glass of tasty craft beer.
While it's hardly George Plimpton taking the field with the Detroit Lions, I decided to give the yoga a try. I didn't know a downward dog from an angry cat, but instructor Melissa Ramirez welcomed me with open arms. And folded legs.
"Do what feels right—there are no judgments in this room," says Melissa to the 30 of us stretched out on the brewery floor. The vibe gets more positive still: "Send a little gratitude and love to anyone you think might need it," she adds.
We start with child's pose, faces down on the mat, then ramp it up to angry cat; I realize it's the first time I've been on all fours in a brewery in (thankfully) many years.
Of the few dozen participants, there are two guys besides me. The music is soothing. A bird chirps peaceably from the rafters. The skyline of fermenters sparkles in the near distance. Melissa's voice is pacifying. "Surrender to the ground beneath you," she says.
The program gets more difficult, and there are some maneuvers that I simply can't—and may never be able—to do. At one point Melissa tells the group of downward-facing dogs to "flip that dog," which sounds like something you do at a barbecue, but is more akin to gymnastics. My attempt is graceful as Louie Anderson on ice skates, but Melissa is right—no one is judging.
After a vigorous hour, we start winding things down. Us yogis are lying flat as Melissa goes around the room, warm oil on her fingers, to adjust our positions. I am indeed surrendering to the ground beneath me, but my position is off a bit, and I get a blissful 5-second massage/chiropractic fix.
"Thank you so much for coming," says Melissa to the room. "Now you get to drink beer!"
We roll up our mats and head toward the tasting room. I ask beertender Craig which beer works best post-yoga, and he suggests either the Palate Shifter or the Frost Monster; two high-gravity brews. "It gets to your blood better," he says with convincing authority, as I order up the imperial IPA. I think of the many people who bike to Captain Lawrence from New York City, how they note just how good the beer tastes after intense exercise. The citrusy hop-monster is indeed delectable.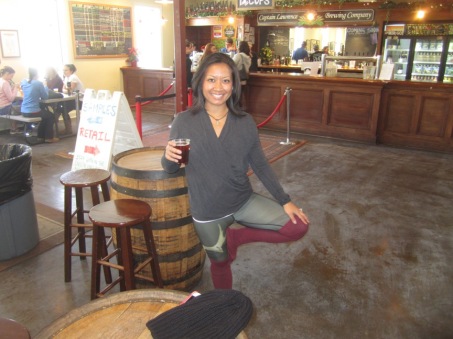 Melissa has the Winter Ale, a brown ale brewed with German yeast. She and her husband have been regulars at the brewery for some time, but it was only recently that she set up her yoga instruction here. She says some purists say beer and yoga don't mix, but Melissa disagrees. "If you like beer and you like yoga," she says, "it's like, why not?"
She's been doing yoga for a decade, and took it more seriously after being diagnosed with severe migraines six years ago, yoga being the one thing that made her feel better. "Teaching," Melissa says, "is a way to give back what I feel inside."
Notably, it appears just about everyone from the class has indeed namast'ayed for the beer. There are a few birthday parties in progress. Emily James of New City has turned 30, and sister Lauren planned the yoga/brewery visit with a big group of pals. "I wanted to make it something different," she says.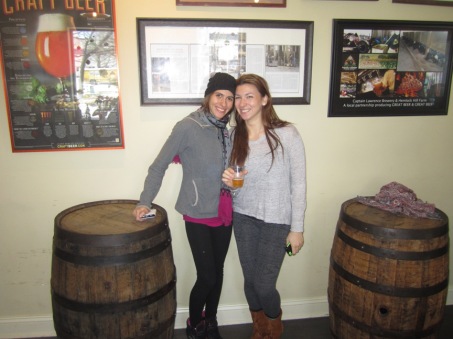 Emily says brewery yoga is an ideal way to start out the day-long celebration. "You get some fitness," she says, sipping a Liquid Gold, "then you drink some beer with your friends."
Elsewhere in the tasting room, Erica and Russell Minness of Merrick, Long Island are staying in Tarrytown for the night, celebrating Erica's 35th. "I'm a huge beer nerd," says Russell as he sips the Freshchester Pale Ale. "And she's big into yoga."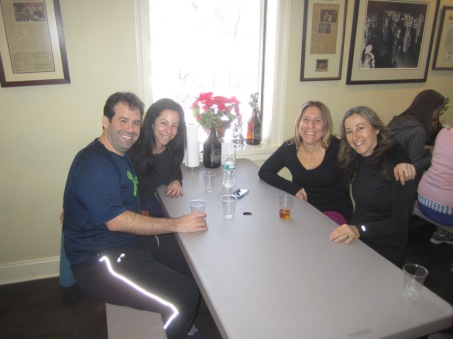 Erica says Russell was scoping out things for them to do in Westchester for the weekend, and stumbled on the Captain Lawrence website. "He said, look—they have yoga!"
The Minnesses are chatting with their new friends, Jennifer Llewellyn and Natalie Dwyer of Katonah. Jennifer teaches yoga herself, and says Melissa's class was challenging, with great music, and a "perfectly open" space with soaring ceilings.
"And it ends at noon," Jennifer adds. "So you don't feel bad about drinking a beer."